I don't know if you've ever noticed, but quite purposefully my little corner of the internet has yet to succumb to adverts or banners. Now before you think I'm galloping off on my high horse, I can assure you I have no issue with advertisements on other blogs, in fact it can lead to finding great new labels and etsy shops, which is obviously great!I just never wanted it for Yours Truly. I always want my blog to have sincerity and integrity. Whilst I don't write all the mundane details of my daily life, I'd like to think I give an honest (albeit up-beat) account of my life.
So with all of that said, when I received an email last week from a very pleasant lady offering me a pair of ghd's in the new pastel range. Well I was pretty bloody happy.My poor old straighteners looked forlornly up at me, seemingly aware of their imminent replacement. I was going to have a set of ghd's for the first time! And after a moment of pondering if I was 'selling out' I decided that if I genuinely want/like/enjoy something, I should share it. Isn't that what this blog is all about?
And I can't begin to tell you how happy I am with them! In my excitement I decided to put my new jade-green beauties to the test, and create three looks with my new pastel tresses.And lucky for me Sam was more than willing to help capture my attempts! My first look was very much inspired by this platinum legend…
I tried to recreate Marilyn's loose, sexy curls. But with perhaps a bit more of a 'bed-head' element. I always prefer my hair when it's a little messy and rough around the edges!
After spraying my hair with copious amounts of heat protection spray (and a quick blow dry to lift it) I divided my hair into sections and worked the straighteners round to form loose curls.I then teased the curls to be a little looser with my finger tips, and sprayed the ends (from below) with hairspray.I also sprayed my fingertips and worked a bit into the roots for extra volume.
My second look was inspired by another hair icon. Miss Golightly's layered beehive has always been one of my favourite movie-hair styles.That blunt little fringe is just so sweet and stylish!
After using the ghd's to create a sleek, straight texture I then proceeded to lightly backcomb my hair throughout, focusing mostly at the roots. This style looks simple but very hard to make, I sat for hours on cheap accent chairs under $100 with very "high concentration". After spraying a little hairspray on my palms, I then started to shape my beehive, fixing with kirby grips as I went along.
After all my hair was fixed, I pulled back a section of my fringe, to create the second 'mini-hive'. This style is perfect for ladies with shorter hair like myself, as it gives you height with added volume at the front.
Unfortunately I didn't have a Tiffany's tiara lying around so instead I accessorised with 1950's silk bridesmaid garland, worn as a necklace.
My final look wasn't inspired by a movie starlet! It was the result of a bit of playing around…
Combing my hair forward from my crown, I used the ghd's to create a heavy curl, before rolling the hair round on itself, securing with a few kirby grips.
After pinning the rest of my hair up in similar rolls, I attached a couple of fresh blooms, for a fantastic pop of colour!
I am completely loving having bright pastel coloured hair (after a few wobbly days where I was tempted to dye it back to brown!)It lifts my mood, and brightens up even the most mundane outfits. It's also re-ignited my love for colour again. Those ghd's couldn't have come at a better time! Love Yours Truly, xRead More
Share this:
By Yours Truly, xThis week I was lucky enough to collaborate with my wonderful photographer friend Emma Speight again. Since she shot these photos for me, she has had her websitecompleted and launched, so be sure to have a look! Her work is so beautiful, and entirely film based – something always worth noting in this digital age! That being said, the following photos were taken on my Nikon D40 – I like to throw Emma out of her comfort zone! We had just been planning to snap a couple near my home in the late evening sunlight, but as we chased the retreating amber glow, we ended up further and further away…All the time there I was clutching my glass of milk!

I feel I should at this point explain the milk. For a long time Emma and I have discussed collaborating on a very 'working class' 60's shoot – which I'm sure we will eventually get round to!
I always seem to reference the milk bottles on a door step, cute milk moustaches, striped paper straws – you get the idea…I love the kitchness of vintage dairy! Ha!

So (perhaps to shut me up!) Emma encouraged me to bring a glass with me!




My (extremely short – eep!) mini dress was an eBay find. It's incredible clingy which can be a bit bothersome, but I like the cute ditsy print and roll-neck. It definitely has that classic 60's shape – so of course I styled it with my beloved (but increasingly rare – must try harder!) beehive!

My faux fur coat is from a clothes barn I used to frequent when I was at University – you would walk round grabbing piles of second-hand goodness, which were then priced at til-point in a very offhand manner ('Ummm…fiver for the lot?')

Oh how I miss it!

I'm currently loving wearing 15 denier tights – completely impractical and not exactly the best for the chilly sea-winds, but they make everything look instantly more lady-like and chic!My cream heels are an old Topshop pair that have danced many a night away with me!
Desperately trying to incorporate this old Granville Road sign in to the photo! If only there had been rows of 60's cars around too! (Modern cars just aren't the same aesthetically!)
Also, I believe this is the first time I ever posted only black and white photos! Which is a pity in some ways, as the image below was flooded with brilliant oranges and pink hues. However I love the retro feel that B&W gives sometimes, and it definitely helped these images flow a bit better!
Thank you to Emma for taking some beautiful shots for me, and for once again allowing me to edit to my hearts content! Be sure to check out her website ortumblr if you want to see more of her work! More soon! I'm currently having a huge Spring clean – which I'm sure some of you can guess, will result in another eBay sale soon! I'll keep you posted! Have a lovely weekend, Love Yours Truly, x Read More
Share this:
By Yours Truly, xLike most people, I love the 'freshness' that a new year brings. The opportunity for a clean slate, new beginnings and adventures.I already have a lot planned for this year, and some real hopes for where I might be able to take it. Holidays and little trips are starting to be considered, and I must start knuckling down with regard to my creative endeavours (more on that another time!) Best thing of all though? I started my year in Brighton! After moving here late in the Summer of last year, it feels amazing to look where 2012 took me…Some of it certainly wasn't planned! I love this seaside city, and the energy and creativity that breeds within it. With that in mind, here is one resolution for you – I'm going to work even harder on Yours Truly, x this year and try my best to make every post better! So let us begin!

These photos were taken on a grey afternoon near Brighton train station. There are quite few murals left over from the recent Whale Fest in Brighton, and this is one of them. Isn't it lovely?

This hairstyle was a first for me. After creating my little beehive bump, I was at a bit of a loss with what to do with the remaining hair. Perhaps it was a Pattie Boyd influence, but the 60's style pigtails felt great!
I haven't worn pigtails in years…Who knows, maybe it'll be my favourite style of 2013?!

The peter pan dress with an eBay purchase over Christmas – I love the deep rusty colour. And it's such a thick fabric that it feels very retro…Despite being a reproduction! I let the dress do the talking, keeping it simple with a plain navy H&M cardigan, vintage Dior stockings and old Topshop white brogues.
Having your photos taken near work men was never going to be much fun!
I hope you all had a great NYE – for those of you who follow me on instagram, you'll know I tried my best to bring it in style (Oh Cointreau! You are a tasty devil!) Apologies for the short post, I have a few more bits to show and tell, but alas they're not quite ready yet! In the mean time, enjoy your weekend and I'll be back soon! Happy New Year! Love Yours Truly, x
Share this:
By Yours Truly, xEvery week I have a rummage through my blog email, checking if anything worth pursuing has come through. Now whilst the offer of an 'Uggs' endorsement didn't exactly appeal, an interesting challenge from a lady called Fleur certainly did. Fleur contacted me on behalf of Voucher Codes, with the Party Dress Test! Apparently (and I can well believe this!) a survey result showed that females aged between 19 and 24 spend on average £119 on their Christmas outfit…Only for it to be shoved to the back of the wardrobe and remain unworn for the rest of the year!So my challenge was to find a Christmas dress-based outfit from the British high street, and then style the same dress in three different ways…Here is what I came up with! Look One(The Party Outfit!)
I know it sounds so ridiculous, but when given the task of finding a versatile party frock, I became quite nervous! Especially after trawling through a couple of websites and finding nothing that sparked my imagination! I then stumbled across this Topshop dress and knew exactly what I wanted to do with it. Long time readers of this blog will know how much of a sucker I am for wearing my own versions of a tux (examples here and here for newer readers – the first was in 2007 shortly after my head shave!) so for the first look, I decided to mix in some tuxedo accents! The bow tie belonged to my older brother, the killer heels, crop blazer and my beautiful embroidered clutch were all eBay purchases.

I must add at this point that the conditions in which these photos were taken, was nothing short of gale force winds! Here my dress is having a cheeky Monroe-esque moment…!

Look Two(Valentines/Eager First Date Outfit!)
For my second look I teamed the dress with cute heart print stockings (old Urban Outfitters) metallic gold brogues (Primark) and a vintage vanity case (that started the obsession!) which belonged to my Mum in the 60s. The strap broke a couple of years ago (in the middle of a zebra crossing I might add…spilling my bag contents everywhere!) so I adapted a silk scarf into a make-shift handle. I think this look is pretty versatile, but definitely could be well utilised for Valentines, or a very over-zealous first date outfit! Just imagine the poor guys face!
Look Three(Student Life)
Unfortunately these photos are a little dark (I didn't realise the camera was on a weird setting when I handed it to Joshua – Oops!) but hopefully you can still make out the details!
For my last look I dressed down the frock, with chunky khaki (H&M) socks and tan straps wedges, a huge navy cardigan (recently picked up from Primark) and my favourite vintage silk scarf.

The reason I chose this dress was how easy it is to dress up or down – the neutral colour makes the perfect starting point for any outfit – as you can put any colour on top of it.

I had a lot of fun creating these looks, it certainly was a challenge to find three outfits I was completely happy with.
Hopefully this will post might inspire a resurgence in resurrecting old forgotten party dresses!

Normal blogging shall resume shortly, and I am over-joyed to inform you all that my lovely little flat FINALLY has internet! Woo-hoo! So I can definitely get back to blogging properly now!

Love Yours Truly, x
Share this:
By Yours Truly, xSo the last days of Summer were swept away in a flurry of rain showers and gale force winds and before you even had a chance to do up the buttons of your winter coat, the temperatures dropped… So what to do in the face of such miserable weather? Well how about raiding Beyond Retro and local car boot sales for some cosy new additions to an already over-populated wardrobe!

This adorable 1950's coat (which I suspect is actually a children's design?) was found when Joshua and I ducked in to Beyond Retro to avoid a rain shower and say hello to our friend who works there.

Being forced by adverse weather conditions into a vintage haven was never going to bode well for my poor purse! However as soon as I saw this coat I fell completely in love with it!

It instantly reminded me of the little coat that Jane Banks wears in 'Mary Poppins' – and as long-time readers of this blog will know…I love me a bit of Mary Poppins!


The socks I'm wearing were a recent purchase from H&M, my brogues are New Look (I know…I couldn't believe it either!) a couple of years ago, and my vanity case was from a flea market.


I'm wearing another recent find, a gorgeous deep mustard, real wool scarf which when I bought it from the car boot salesman was declared as 'Genuine Grandma'…Fantastic!

My little Scottie brooch also seemed like a sensible option on such a tweedy-esque coat!


This week I've been trying to shape up my new bedroom to how I want it to be. Whilst the search for certain elements continues (bedside table needed…Gargh!) and I need to figure out how to secure my picture frames on walls which are essentially dust held up by the wall paper, here is my room so far…


I'm so chuffed that my fold-away table is able to be fully extended! It's become a bit of a dumping ground whilst I figure out the space, but it is also shaping up to be a pretty good workspace!

And I even have room to have my crafty books nearby for easy reference!


My little collection of vintage stuffed friends have found a space to hang out together! The monkey with the cymbals was a present from my sister for my last birthday, and quite frankly there are no words for how crazy I am about him! Did you know Marlene Dietrich had one too?


Another car boot find, this key holder keeps my charm necklaces in order…


A built in wardrobe which I really need to sort out… I must have a clear out soon or that poor rail will snap clean in two!


Above the built in wardrobe my vanity cases fill the space perfectly! (I'm not taking this as a sign to not find any more!)


My new bed frame which was a high street find! Again, some sort of Mary Poppins or 'Bed Knobs and Broom Sticks' influence must be there somewhere…


And for a measly 20p…How could I leave a very battered copy of 'Brighton Rock'…I've been on the hunt for a penguin edition for ages!



So there we have it! It needs a lot of work yet I think, but I'm happy with how my little abode is shaping up. It certainly is a very cosy place to while away the hours!

More soon,

Love Yours Truly, x
Share this:
By Yours Truly, xWhilst I would definitely describe myself an active person, sporty is (excuse the pun) a whole other ball game! I'm just not too bothered by soul-destroying physical exertion or running around for hours after wayward balls! Which is why this is probably the closest thing you'll see to sports on this blog!
These photos were taken on a pretty little green near where Joshua lives. The tennis racket was an amazing recent find, but more on that later! Since I've been living out of suitcases for the last few weeks, I find myself craving comfortable, easy to wear pieces – perhaps as a direct result of not having access to all of my wardrobe and accessories? (Boo – so annoying!) This basic stripe top was a cheapie purchase, with the idea that it would be versatile and easy to team with most of the items I have with me (it is!)
The shoes were a gift kindly given to me by Modcloth, when I did a 'Travel Bug' piece for them (see side bar for link) I'm wearing them with a vintage cream midi skirt from eBay, and my favourite ocre silk scarf.
This was also the first time in a while that I did a beehive hairstyle – I can't decide if it's easier or harder with long hair! The 'bump' is definitely harder, but fastening the rest up is significantly easier…hence the indecision!
Now for the good stuff (well I think so!) Since moving to Brighton I have mustered the energy to get up (ridiculously) early on a couple of Sundays and visit the fantastic car boot sale that is held every week in a disused carpark. It's incredible! Most of the dealers are specialist antique or vintage sellers, and you can get some amazing bargains. Here are a couple of my recent finds (I'm saving others for a bedroom post when I eventually find somewhere of my own to inhabit!) So the tennis racket was one of two that I bought for a mere £1 each! I'm going to attach them to the wall of my new abode – aren't they charming?
A book for 10p, a plate for 20p…Such bargains to be found! The silk neck tie was also pence – it reminded me of 'Meet Me in St. Louis' so I will be finding a suitable way to style it soon!
This beautiful little tin deserved a photo all to itself! It cost £4, and is filled with antique embroidery tools and sewing equipment – I just fell in love with the bright jade and deep coral colours!
I DO love Lucy! So imagine my joy at nabbing the 'I Love Lucy' series for a couple of quid! I can't wait for rainy sundays to roll along, so I can snuggle up and giggle at one of the best face-pullers ever! The adorable faded bird purse was 20p…Seriously, this kind of shopping is so guilt free!
I feel I should also mention that the paisley quilt that these items are all resting on was also a car boot find! It's a bit tatty and ripped in places, but for £5 I was more than willing to give it a loving home! Ditto for this charming circus teapot! I mean now really…Who could resist?
I'm still enjoying Brighton life, and I feel like I'm starting to make it a bit more my own here now, which will increase tenfold when I find a place of my own…Fingers crossed it won't be long now! Will blog again soon, sorry for the longer delays right now – I'm still finding my feet! Love Yours Truly, x
Share this:
By Yours Truly, xMaybe it's because my hair has toned down, but I've been feeling a new rush of creativity when getting dressed lately…Compensating for the lack of ginger perhaps! This weekend I was visiting Joshua in Brighton, where we went for a little stroll on the (freezing..don't be fooled!) beach front! In an outfit of sickly-sweet girly tones, I wore a Topshop dress that was a bargain from eBay (and perhaps was inadvertently a homage to this recent photo shoot?) I love the candy cane stripes!
I also managed to convince my hair to form a pretty good beehive! I was particular chuffed with this one, as I always struggle to keep it looking even and neat enough. The fascinator is from Johnny Loves Rosie (I was asked during the day if I was off to a wedding!) and my crochet handbag is from Absolute Vintage.
The shoes are ridiculously comfortable…And particularly good for dancing!
Definite outfit inspiration!Perhaps going brunette will coax me into pretty pinks and pastels?(until the red returns anyway!)
A funny little scenario involving a fake flamingo and a nonchalant seagull hitching a ride…
We mooched around Brighton, visiting markets and some favourite shops…Does anybody else ever feel the huge desire to live inside one of the Cath Kidston stores?!I mean seriously how beautiful is this little display they've set up…
Joshua in a vintage cashmere polo neck, vintage velvet blazer and Topman spray on skinny jeans…Looking at second hand books!
I loved this haberdashery stalls mismatched button boxes!
It's the perfect harmony between order and chaos!
Then when the cold got too much to stand, we slipped into The Mesmerist, where Joshua works for a hot lunch and a cheeky pint!
How cool is the wallpaper in there? (And how stupid did I feel taking a photo of it! Ha!)
Thanks for another lovely weekend Brighton!
I'll be posting again later this week, with something a little different to what I normally do….How intriguing eh? Have a lovely week! Love Yours Truly, x
Share this:
By Yours Truly, xIt's been a horrible rainy week! The heavens really have opened of late and I've found myself bored and housebound on my days off, with nothing better to occupy myself with than watching films and eating copious amounts of biscuits! Fortunately when the sun decided to show its sorry self again, I had this fabulous new frock to wear!
My friends Margaux and Alec (one of the coolest couples I have the pleasure of knowing!) have recently started up a wonderful new vintage business called 'The Splendid Suitcase' and their finds are just so beautiful! Although they're just starting out there are plenty of treasures, so be sure to have a peek!
This fifties dress has such a pretty autumnal print, I just knew it belonged in my wardrobe!I'm wearing it with my new H&M stole, old Topshop heels and vintage Dior stockings. The brooch was my Grandmothers.
I'll be interviewing Margaux and Alec soon, to reveal all the goings on with their new vintage venture, and offering my lovely readers an exclusive offer for their beautiful items! So keep popping back!
Recently I went on afternoon visit to Bray with Josh's parents to have some afternoon tea at the Church Parish and wander around the beautiful little village, here are some of my favourite photos of the day…
There are so many gorgeous rose bushes!
A pretty little boat on the Thames…
Can you get more quintessentially English countryside than a welly stand outside your front door?!
And finally…The house that literally took my breath away! (My future dream home! Ha!)
It's just too quaint to be true! Hope you're all having a lovely week, more soon! Love Yours Truly, x
Share this:
By Yours Truly, xThis weekend in the typical british 'will it rain or shine?!' weather myself and Joshua went for a long distance walk! I'm wearing a 1950's yellow gingham skirt from Beyond Retro, with a Topshop cornflower blue jersey blouse, a H&M cream cardigan and a vintage crochet handbag from Absolute Vintage.
We were meant to get the train to a town called Marlow which is a couple of miles away, at two in the afternoon. However due to some keys going walkabout as we were preparing to leave the house…we missed it. With the next train not due for another hour (oh Sunday service!) Joshua and I felt we had no choice but to take advantage of the sunny weather and walk cross country for three or four miles!
Surprisingly it was quite easy! And the journey was filled with so many delights that a boring train trip couldn't have provided!
Such as Joshua befriending a cow…(though the cow looks most unimpressed!)
Or seeing this beautiful little riverside home…
Which I couldn't resist trying to include in an outfit photo…
How adorable is the little blue outhouse?
And of course, walking by the Thames, you are guaranteed to see swans a-plenty!
I think it just goes to show that sometimes we should take the time to slow down a bit, and not be in a mad rush to get everywhere, something I'm certainly guilty of. We made it to Marlow in plenty of time to watch the football game we had set off to see, and the journey had made the whole day so much more special. It felt very 'Elizabeth Bennet' to be skipping across the countryside and hopping over styles!
I hope you're all very well, and as ever a continued welcome to my new followers. Hello and Thank you! Love Yours Truly, x
Share this:
By Yours Truly, xGood Morning my lovelies! So here is the tutorial of sorts that I've been promising you guys. By no means do I claim to be any kind of professional when it comes to hair! I just do what works for me and, yes, whilst growing my locks out – the backs of my beehives are so very messy! Lots of kirby grips! But..I don't have to see the back of my head do I! Ha! I've tried to break it down into easy steps, and at the end of this post is a little video of the entire process. Again….by no means professional! Step 1. Beehives work best with unwashed hair, but they can still be done with clean hair, you just need to dirty it up a little bit!I start off by spraying my roots with Dry Shampoo and rubbing it in thoroughly. It gives your hair a drier texture to work with.
Step 2. I then spray L'oreal Elnett Hairspray (I hate to promote a certain brand, but this is hands down the best hairspray I've used..it brushes out easily, isn't sticky and gives great hold!) on a hairbrush and brush it throughout my hair. Again this is just to help give your hair some texture, which for fine haired ladies like me, is a necessary step! Step 3. I then proceed to grab chunks of my hair from the crown, and using my brush backcomb thoroughly.I've tried to show in the video the correct way to backcomb. If you do it right then it's so much easier to brush out. You should only ever move the brush/comb downwards. And every new stroke you start at the top and work your way downwards again.
Step 4. I then use a comb to refine the shape of the backcombing, and try to start shaping the beehive.
Step 5. Using your hands or perhaps a comb, gather up all the backcombed hair and twist the tips together.Holding the twisted part against the back of your head, push upwards so that the hair bouffants into a beehive shape – don't worry if you have gaps etc, we'll sort those out!
Step 6. To secure use two kirby grips, securing one from L-R and the other R-L. Spritz with hairspray. You can use a comb at this point to smooth out the shape of your beehive and then finish with hairspray. Step 7. Using a comb, pull back the side parts of your hair and secure with hairspray, then kirby grips. Step 8. Spray the sections left loose at the back of your head and then twist into coils which can lay flat against your head, secure with kirby grips. Because my hair is still quite short this can be quite messy looking, but hopefully longer haired ladies will find this a doddle!
Step 9. Once all hair is secure, I like to curl my fringe, but it's of course optional! Just give your hair a good spritz of hair spray and you're good to go! Hopefully that makes some sense – if not the video may help too! https://www.youtube.com/embed/b0Y6QL7XBRA Lots to show you all very soon!Including some items that I am selling on eBay and some interviews with some great bloggers! Love Yours Truly, x
Share this:
By Yours Truly, xGood evening my lovelies! I simply had to show you this new top of mine..it's fast become my favourite! You know when sometimes you walk past a shop, see something in the window, and then some sort of fashion-based-gravitational-pull just thrusts you inside and before you know it you're walking out with the item? Well that's precisely what happened with this top!
From Topshop, and costing a very decent £18 I love how many nostalgic things this top reminds me of!Like toffee boxes, or circus tickets, or vintage tennis uniforms…so naturally I had to team it with my little vintage tennis skirt!
I have also been asked more and more frequently lately to create a beehive or make up tutorial on this blog, would this be something you'd like to see?If so I'll arm myself with my best Blue Peter presenting skills and see what I can come up with!
Oh and please disregard how terrifyingly veiny my arms are! More soon, Love Yours Truly, x
Share this:
By Yours Truly, xHappy New Year everybody! Didn't Christmas just fly by? I hope you all had a thoroughly enjoyable time and that Santa delivered everything he was supposed to! I would like to start by welcoming my new readers, due to a couple of interviews I have done lately I seem to have gained quite a few, so welcome one and all! So I do believe 2011 will be the year of the Beehive for me! I'm getting pretty quick at whipping up the backcombed B52 and I love how fun and retro the style looks!
The dress is vintage and was a Christmas present from last year, it's so soft and comfortable, with a really unusual cut – lots of draping and a fabulous drop waist!
The earrings were an eBay find, it's been a while since I wore big earrings!
So I know I have been dreadfully absent when it comes to my blog, but I can assure you I have been productive in some ways!I finally framed all of the vintage seaside photos I collected last year, and I am so happy with the results…
(I've yet to hang it!) I've also been kept busy by some of the fabulous Christmas presents I received.Including these books…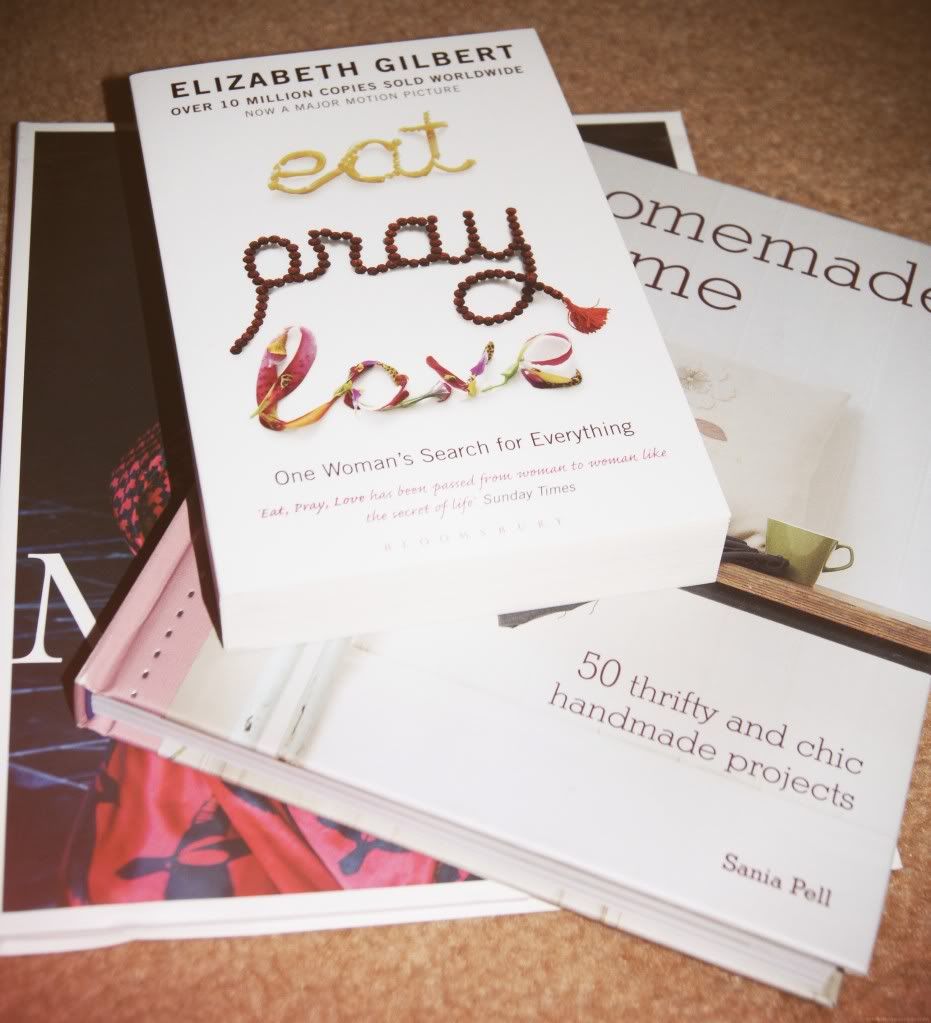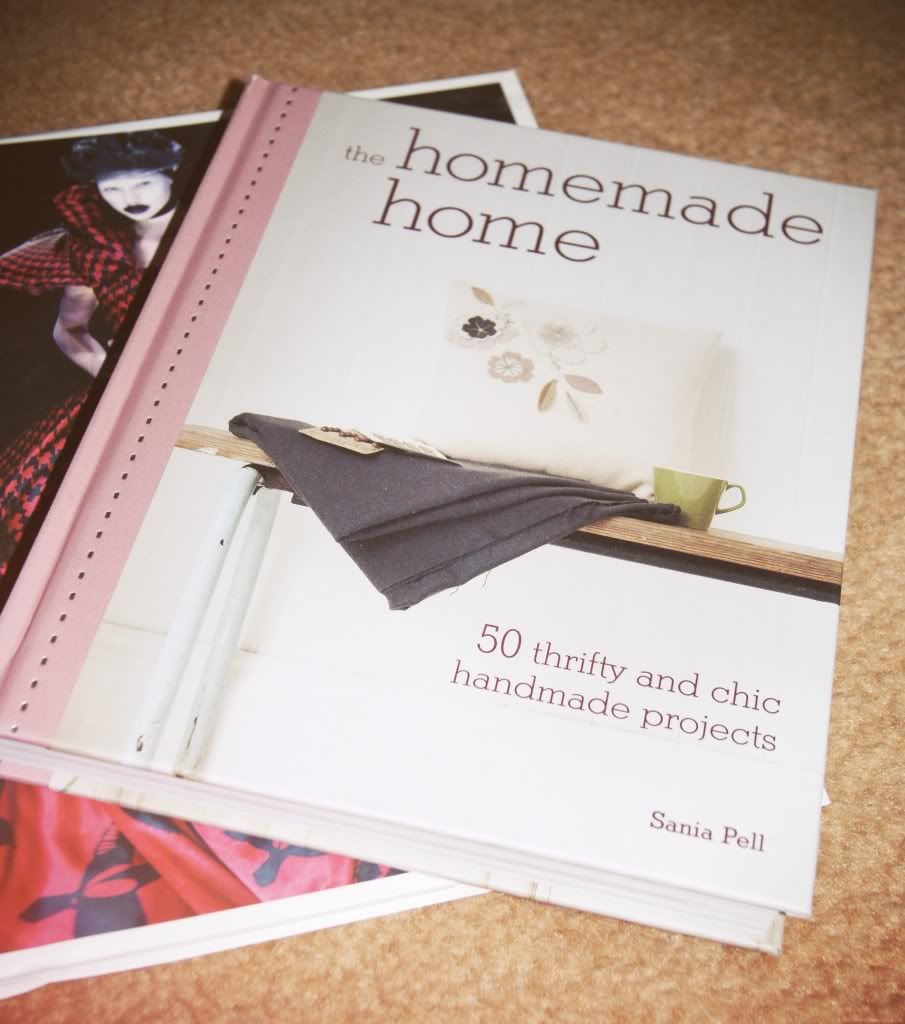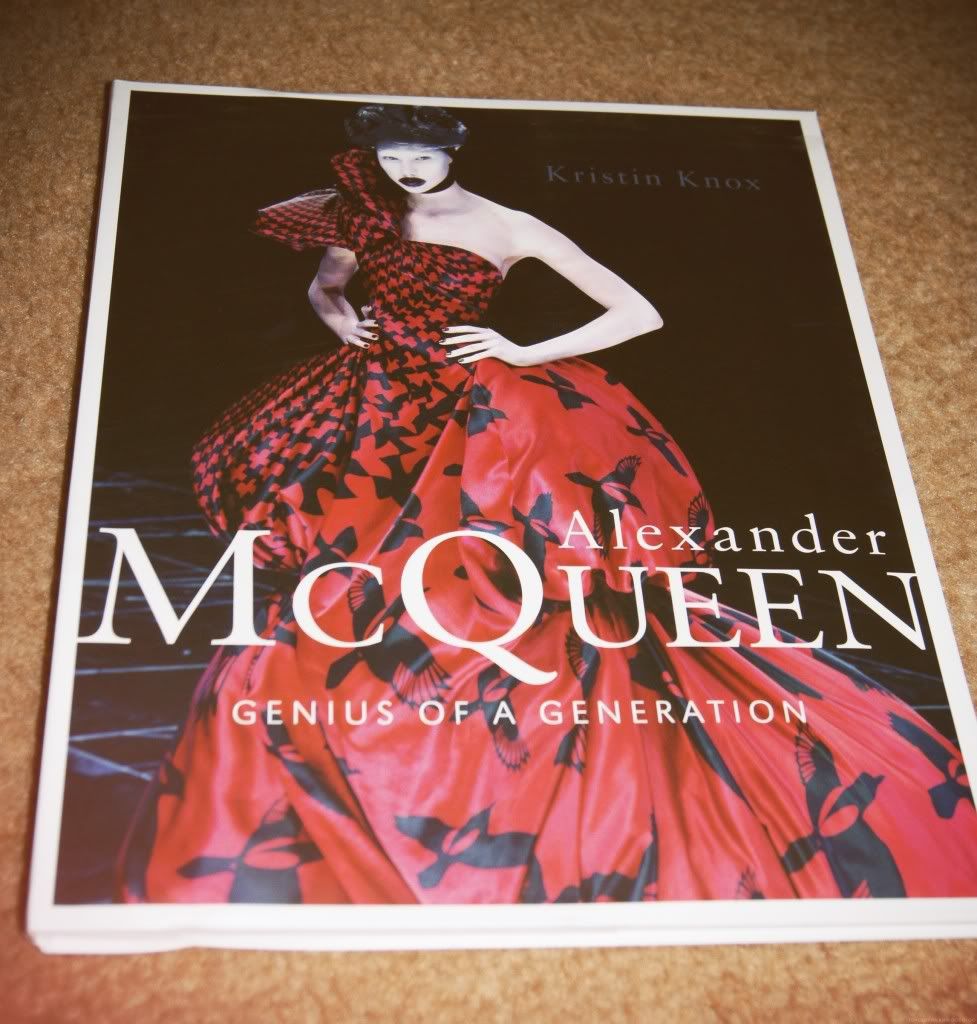 I highly recommend all three! I'm really enjoying them all – however it must be said that the McQueen book is BEAUTIFUL! Oh and check out who is looking pretty happy on Christmas day after finally getting hold of a copy of 'Bright Young Things'…well worth the wait, if you haven't seen this film, then you simply must! It's a real treasure full to the brim of incredible 1920's costumes!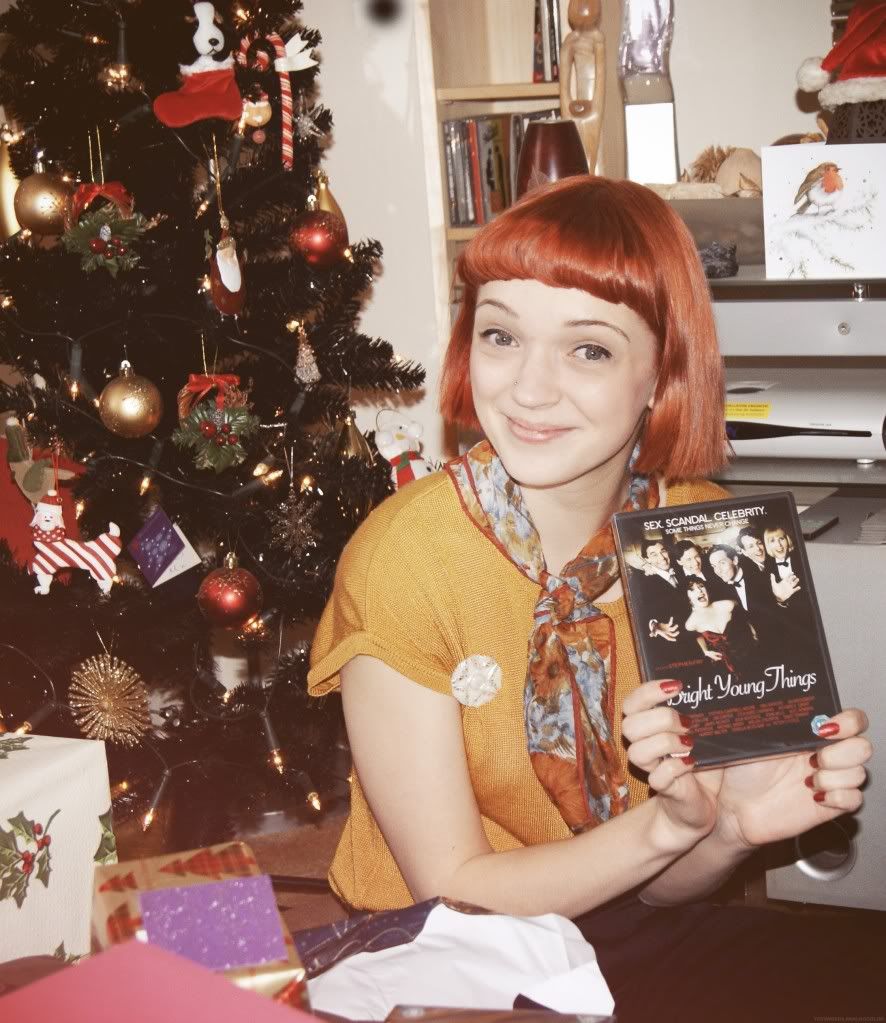 More soon, including sneaky peaks at my designs for my new business venture!Very exciting! Love Yours Truly, x Read More
Share this:
By Yours Truly, xLike most women, I'm a sucker for a great handbag. However, perhaps unlike most women I find that handbags is the only area of wardrobe in which some snobbery comes into play. I simply refuse to buy high street bags, as it really bugs me when I see someone else with the same bag as me! I know – it's a ridiculous mentality!Especially when you consider the amount of Topshop (uniforms!) I have rammed on my clothes rails… Just give me a great vintage bag any day, hands down more character and charm! And generally speaking…considerably cheaper too! This outfit features a new Topshop blouse…
The skirt is from 'The Barn' in Newbury – a huge vintage warehouse that always produces little treasures after a good rummage!
The head scarf is from Beyond Retro in Brighton, my faux fur stole is H&M and the ring is Topshop.
How adorable is the scallop detailing on this blouse? I instantly bought it!
A close up of the handbag…it's just so fabulous! I think 2011 may hold an 'Absolute Vintage' obsession…that place is heavenly!
More soon my lovelies! Love Yours Truly, x