By Yours Truly, xOne of my favourite ways of relaxing is to hole up in my kitchen and cook. I love creating recipes from scratch, and entertaining friends with dinner is one of my favourite things to do. So with that in mind, I suppose it's quite odd that my passion for food has never really reached this blog.
Until now! I've decided to start working on some recipe posts every now and then, starting with this incredibly easy and great tasting guacamole – perfect to accompany a mexican dinner, or just with a bowl of tortilla chips…
The best thing about this guacamole is that it can whipped up with minimal effort (and ingredients) at the drop of a hat. It's fool-proof! Most importantly though, you'll definitely taste the difference from shop-bought dips. It's chunky, creamy and incredibly more-ish!
You will need – A ripe avocado|Smoked paprika|Half a lime|Salt & Pepper|Beef tomato|Chilli hot sauce|
First cut your avocado in half, it should feel soft but firm to touch. Glide your knife all the way around then twist the two halves to separate.
Carefully using the point of a sharp knife, stab the stone and twist to remove.
Using a tea spoon, slowly spoon out the insides, creating small chunks as you go.
Before mixing the avocado add a generous pinch of salt and the smoked paprika.
Also squeeze as much as juice from the half lime as humanly possible!
If you like coriander you could add some chopped leaves at this point. Personally I'm not so keen so it's left out of my recipe!
It should be looking like this…(drool)
Now for a cheeky bit of heat! We favour this Cholula hot sauce in our house, but you can choose any brand you like.
Carefully add two drops! Chilli sauce can be pretty potent stuff, and we're only adding it for depth of flavour, not to blow peoples heads off!
Besides after a taste test at the end you can always add more…
Finally chop up half of your beef tomato. To keep the guacamole from getting too wet, I try to only use the flesh and discard the pulp.
Throw in your chopped tomato then mix thoroughly, smashing the avocado with your spoon as you go. You're aiming for a smooth texture with satisfying chunks of both tomato and avocado throughout.
The best bit…Taste testing! This is where you can decide if you need more seasoning or hot sauce (note – it can take several 'tests' before you're absolutely, completely sure!)
Serve in your favourite homeware (these two are from Berts) with tortilla chips for dunking!
I like to sprinkle a little more paprika on top for presentation, but this is optional.
It really is that simple! But totally worth making that little bit more effort…
I have a few more recipes in mind for future posts, some a tad more complex that little beauty!
And luckily for me, Sam is around to photograph them! Thank you Sam! (He was rewarded with guacamole!)
Love Yours Truly, xRead More
Share this:
Remember how I said in my last post that I had a whole heap of blog photos on my desktop, that for one reason or another I wasn't going to post?
Well this set were included in that pile!
I'd been working flat out, and so when these photos were taken by Josh on my day off, all I could see was how tired I looked!

But after your encouraging, sweet comments on the post below, I decided to go for it!
I would describe this outfit as 'lazy 60's!' a good nod to the decade I adore – but with very little effort!
The black high-neck jumper was a Primark find and the houndstooth skirt from Beyond Retro.
These adorable dolly shoes are amongst my favourites – originally from Office, I found a pair for a snip of the price on eBay!
The vintage cream vanity case was also found on eBay.
And to complete the look, bright orange-red lips in the form of 'So Chaud' by MAC. It's quickly becoming my signature colour!
I've been such a busy bee lately! The weeks leading up to Christmas were mad, but so fulfilling!
I have recently had the pleasure (and it really is a pleasure!) of tutoring withThe Fashion School in Brighton.
Set up by one of my former University tutors Caroline Gration, The Fashion School helps girls (though boys are welcome, I've yet to teach one!) of all ages learn how to pattern cut, sew, and develop their creative talents.

Here I am with some of the girls from a 3-day Christmas Party Wear workshop we did, they made everything they're wearing!
They were such a delight! Boundlessly enthusiastic and creative, with such cheeky little personalities!
Caroline (back left) and I had so much fun helping them turn rolls of fabric into party dresses, leggings, onesies and pinafores!

It's been a huge learning curve for me and I'm really looking forward to continuing into the new year.
Also in December, a relative of Josh's got married in a beautiful ceremony, giving us all a great excuse to dress up and dance the night away!
Joshua and I also celebrated three years together this month.
I can't believe how time has flown by, and how we've managed to adore and endureeach other throughout!


As a little anniversary gift, Joshua surprised me with this beautiful Wolf & Moonnecklace – one that I have lusted after for ages! Expect to see it on the blog again very soon…
And as if that wasn't enough – Christmas too!
I went back home, and had a lovely time with both mine and Joshua's families.

Below are some of my festive instagram moments – including my beautiful gift of a Cambridge Satchel Company bag, and the game of Monopoly we played on Christmas eve with friends…That I won! Whey!
I'm so excited for 2014 and all the possibilities that lie ahead! I look forward to sharing it all with you.

Happy New Year!

Love Yours Truly, xRead More
Share this:
It is often mused in literature and cinema, that to achieve happiness in life, you must take notice of the little things that surround you. That somewhere within the seemingly never-ending mundane routines that we endure, we can discover fleeting glimmers of joy. I whole-heartedly embrace this ideology, though admittedly it can be difficult to maintain on a daily basis.

However I like to think of myself as a glass-half-full kind of girl, and living in this beautiful city on the English coast certainly makes it easy to discover magic in the monotony. A few weeks ago marked my first year anniversary of living in Brighton, though what with my comings-and-goings over the last three years it certainly feels like longer!

I am still completely in love with this place. I adore seeing the sea (almost) every day, and discovering how many varied and beautiful blue and green hues the waves can turn. I love the people, the sense of community, the food (markets, cafes, restaurants…I have a serious love affair with grub!) and the fact that there is nearly always something to see, or hear or experience.

Which leads me very nicely into an afternoon walk Joshua and I took a week or so ago…
We decided to make the most of the clear, bright weather and head to a nearby park called 'The Level', somewhere we used to frequent (see here and here) prior to Josh moving away from the area. In the last year the park has undergone a huge renovation, funded by a National Lottery grant. I wore a new vintage skirt from Beyond Retro, with jersey basics from H&M, vintage Dior stockings, and a turban headband, necklace and shoes all from Topshop ages ago.
Though completely enamoured with the fabric of this skirt, it did prove to be a bit of a tricky one in terms of building an outfit around it! I felt somewhere between 1920's flapper and a genie in the end!
And of course, I had to bring along one of my notoriously impractical vanity cases! I found this little blue one in Lewes last year, it certainly brightens up a cloudy day!
Now whilst I had heard amazing things about the results of the renovation of the park, I had yet to see it for myself, and was eager to discover how they'd transformed a pretty dated, derelict space into somewhere that was better for the whole community. Please believe me when I say, I was completely blown away. It's beautiful. And it certainly fits the bill with regards to the whole community!
There is a new huge skatepark (how often are teenagers/youths overlooked in projects like this?) which we stood and watched people using for ten minutes or so. It's a well thought out space, with (from what I can gather in my limited knowledge of such things!) practically every kind of concrete structure you could possible want as a skater! An eco-cafe with solar panels and a grass roof opens next month, and the kids playground is just amazing! The space is natural, with so many plants and trees amongst the play areas, creating little walk ways for small people to explore. And then there are the bridges…
We were lucky enough to have a bit of a chat to the project manager, who informed us (between us gushing at how great we thought the park now looked!) that the two bridges that stand central in the park are actually listed. Therefore as part of the conditions of maintaining the grant, they had to stay, and the vine walk-way that originally stood around them had to be re-built. Whilst the model boat lake may be gone, it's nice to have a nod to yesteryear within all the newness.
We were then about to head off for some lunch, when we were stopped and photographed by a lovely lady called Ingrid.
I didn't think too much of it afterwards, until…
She not only sent the photo, but this amazing illustration she did of us too! Ingrid (Allan) is studying at Brighton University, and snapped us as part of her latest project.I'm so thrilled she did!
So, in what started as a walk to 'just get out of the house' turned out to be a beautiful afternoon. Not only did it cement my adoration for the city I've chosen to call home for the last year, but helped me to remember that wonderful Roald Dahl quote. 'And above all, watch with glittering eyes the whole world around you because the greatest secrets are always hidden in the most unlikely places. Those who don't believe in magic will never find it' Love Yours Truly, x Read More
Share this:
By Yours Truly, xIt started with a rainy day in Brighton. Soaked to the skin by an unexpected storm (we borrowed the umbrellas below!) I found myself exasperated at the state of my hair! Bad hair days were becoming an annoyingly regular occurrence, and I didn't really like my hair unless it was tied up – never a good sign! So I decided to finally take the plunge and do something I had been considering for a few months…
After drying off at home and enjoying a nice cup of tea for morale, I enlisted the help of my dear friends Becca and Sam, who were all too willing to help!
With Becca armed with a pair of £1 hair scissors, and Sam with his (considerably more expensive!) camera, we spent a rainy afternoon doing the following…https://player.vimeo.com/video/68397425I love that video! Sam perfectly captures the care-free attitude of the whole hair cut!I'm not very precious about my hair (perhaps as a result of my shaved head in 2007!) I'm not really bothered as long as it doesn't look too horrific!
Fortunately Becca is incredibly meticulous and patiently spent a good twenty minutes ensuring all my blunt cropped ends were even!She certainly gave it a lot more attention and care than I would have, had I endeavoured to cut my own hair!
And we made a gloriously hairy mess in the bathroom too!
Posing with my impromptu hairdresser! I love my new hair cut!
So there we have it! My short absence explained with a fantastic video via Sam Luck!We all had so much fun doing this little project we have decided to collaborate on further projects over the Summer!I can't wait! Much more to show you soon, but for now I'm off to flick my freshly cut tresses around! Love Yours Truly, xRead More
Share this:
By Yours Truly, xJanuary is a funny old month. In Britain, it's cold, more often than not raining, and every street you walk down has depressing 70% off sale signs, garishly attempting to lour you into spending money on something you don't particular like or need. However (before this post sounds too pessimistic!) It's the perfect month to hole yourself in the comfort of your room, with good books, magazines and new year projects to keep yourself busy and entertained. I'd thought I'd show you all what I've been keeping busy with, including a little taste of things to come!
These photos were taken by the fire station in Brighton, after Joshua and I went out for some vegetables and fresh air! The vintage skirt is an old favourite (Seehere, here and here!) which I hadn't worn for a very long time as the hem needed repairing, and I just never quite got round to doing it! (Ridiculous really as it only took minutes to fix!) I've worn it with (this) polka dot dress underneath as a blouse and a putty-coloured H&M cardigan. My wonky little scottie dog brooch joined in the fun again too!
I purchased these vintage-style seam stockings in the Topshop Christmas sale, and the beautiful patent red Mary-Janes were an eBay find. Originally from Office, when they were in store I saved to grab a pair, only to find my size sold out by the time I was ready! So imagine my glee at getting a near-mint pair for a snip! The vanity case was my Mums in the 60s, with an old neck scarf as a replacement handle.
Wanna know what has kept me smiling this week? Regular little packages from my postman, one of which was this (quite frankly) amazing print by Max Dalton, of 111 Archer Avenue, the home of the Tenenbaum family in Wes Anderson's 'The Royal Tenenbaums'. As a huge Wes Anderson fan (let's face it – who isn't?!) I completely adore it!
Right down to the zebras on Margots wallpaper – every detail and every character is featured in this beautiful coloured (limited edition – cough cough!) print. I purchased my print via The Peoples Print Shop, which sell a limited edition print for a ten day period, before no longer selling them again!I caught my Max Dalton print with two days to go! Phew!
And for a print that good, I had to work on getting the frame right! Whilst at home for Christmas I stocked up on emulsion paint sample pots and cheap charity shop frames, which all came in very handy!
For instance, this frame…Which seems to have photographed quite nicely, is actually really ghastly and plastic-y in real life. Until…
A few coats of deep coral! Personally I much prefer this end product!
And once my print was mounted in its newly painted frame, up on the wall it went! Along with a beautiful print of ballerinas that Joshua got for one of my Christmas presents from a local flea market (I had been eyeing it up for weeks!) I also put up my favourite photograph of my Mum and I, my very first sewing attempts (aged six!) an embroidered house I picked up in a Berlin flea market a few summers ago, a print of one of my favourite vintage vogue covers, a charity shop taxidermy butterfly and some vintage photographs I love.
Two of which are of a school production featuring these adorable little ballerinas! I love so many aspects of these photos! I'm also gonna buy a new accent chair to refresh my room, and luckily, I just found a very good reviews for cheap accent chairs.
And once I was done with my hammer and tacs, I set about clearing and organising my work space…
This little vintage shelving tower from a flea market really helps to give me a bit more space, and to display all those trinkets that I like to surround myself with!
The porcelain swan is a tribute to my hometown, our town crest features a swan and a crown – it's good to remember where you came from!
And why all this mad cleaning, preening and organising? Well the wheels are in motion at long last! Having settled in a home I love, in a city I adore – being financially comfortable and not having a hefty train journey keeping me away from my man anymore, I have the time, money and ambition to finally get my long-awaited home textile business off the ground! I have started making and creating bits and pieces already, but until I decide the time is right to show those properly…. Here's a sneaky peak!

I'm aiming to launch in March (oh man that seems so close!) and will of course keep you all informed of my triumphs, tears and tangled wool in the meantime!
Any suggestions or queries are of course welcome!

More soon (I'm very excited about the next post!)

Love Yours Truly, x
Share this:
By Yours Truly, xGood evening from a rainy, cold Brighton! First of all thank you so much for all of your lovely feedback on my previous post, I'm so glad you enjoyed it! I am, as anyone who regularly reads this blog will know, a huge eBay fiend! So many of my possessions are the result of a well timed bid, including my bicycle, furniture and knick knacks in my room, as well as clothes, shoes, smellies, accessories, books and fabric! Suffice to say…It's my favourite way to shop!My latest eBay find was this cute mustard lace shirt….

Mustard is definitely one of my favourite colours, and I couldn't resist this top when I saw it! I'm wearing it over a nude body suit (heaven forbid my underwear show through!) with a H&M white cardigan, vintage navy school skirt, and my current favourite shoes (originally from Topshop – I found a pair on eBay!)


I'm also sporting some amazing new tights from Primark! They're fleece-lined, and against the raging sea-winds…So snuggly!
My scottie dog buddy who is kindly accessorising my shirt was a charity shop find in my teen years…He's so cute, he has survived numerous clear-outs over the years!


Also worth a mention (as I receive numerous emails requesting this!) I haven't dyed my hair for about ten weeks now…Perhaps longer (I forget!)
After deciding to no longer be a red head, I dyed my hair dark brown and have since then allowed it to fade out to this warm chestnut colour.
Whilst I've certainly noticed a difference in my hairs condition, I'm planning to dye it again soon to combat root regrowth!

So for those of you who asked, that's how I achieved my current colour!


My nail polish is 'Big Smoke' from Topshop (a lovely sludgy grey which reminds me of wet clay!) and my lipstick is a blend of Topshops 'Rio Rio' and MACs 'Chilli'

I'm still debating how to best do a make-up post (again, requested often!) but for today I thought I would share one of my favourite ways of blowing money…Magazines!

I have become quite select with my magazine preferences over the years. There was a stage (ok…four or five years!) when I would religiously purchase Vogue, Elle, ID and Glamour every month. However moving house with all those magazines became such a hassle that after a full day going through them all and tearing out pages I liked – I donated the lot to a local schools art department, and my shelves breathed a creaking sigh of relief!

Below I list some current favourites, some of which you have probably heard of, or even collect yourself. I just wanted to explain why I like each publication, and why I would encourage others to try out a copy.

Lula Ok. So I know this one is considered akin to the Bible in every dreamy, whimsical, girly fashion-lovers collection! Leith Clarks heavenly bi-annual publication is at the top of the pile. It's exempt from my 'having a clear-out' cutting or tearing of pages. They're all too beautiful to damage in any way! I remember when I found my first issue (No.5 with Kirsten Dunst) being so enchanted by the soft-focus editorials, and the sublime styling. This is a female magazine created by females. No OTT sexiness, or 'How Achieve Your Dream Holiday Body' articles here! It's soft, feminine, a little bit off the wall and incredibly inspiring. Put it this way…As long as they keep making it, I'll keep buying it!
Frankie This Australian publication is also a firm favourite of mine. Reading an issue can lift my mood, and inspire me to start new craft projects, write a letter, practise my ukulele – essentially better my creative-self in some way!A huge advocate of small, own brands and websites, Frankie opens up a world of creativity on beautifully formatted, textured paper pages.Frankie also has a free pull-out poster with every issue, featuring a design from an illustrator from that issue, and a three month calendar on the back! Every page is such a joy to look at, I could gush about this magazine for ages!
Jalouse I picked up my first copy of this french publication during a visit to Paris in 2009. It's funny how you can enjoy a magazine so much, despite only understanding a handful of words within it! Such is the loveliness of Jalouse!A bit tougher and sexier than the other magazines I'm featuring, my favourite parts of Jalouse are the kookily-styled editorials (something about the way this magazine is styled doesn't feel as 'safe' as its UK counterparts) and the movie inspiration pages (pictured below)As someone who contextualises 90% of her wardrobe (some favourites include 'Little House on the Prairie dress' and 'Taxi Driver hot pants') I love the idea of recreating looks from your favourite films…
Mollie Makes A friend I work with recently introduced me to this craft magazine, and I went to get my own copy the very next day! (She has since, very sweetly given me all of her back issues to flick through!) This for me, is a craft magazine without all the naffness of creating matching twinsets in angora, or other dull, dated craft projects!Giving you insights into others studios, creative pursuits and loads of simple to follow tutorials, I have bookmarked numerous pages to work on the projects they show! I enjoy this one so much, I've asked for a subscription this Christmas!
After reading this, I wanted to buy an accent chair for my vanity table, and I will soon. Searching in Goodle, I found this article – cheap accent chairs under 100 – writen by Sarah – a mom blogger. Betty Comparatively quite a small publication, I purchased my copy of Betty via their blog. It's such a sweet, feminine magazine! Though lacking in word content (the pages consist mostly of editorials, with a handful of recipes, and a few written articles) the charming Betty certainly brightened up my day! I can't wait to see what they come up with in their next issue!
Oh Comely Recipes, amateur photography, and articles written by individuals in a personal, letter style format…What's not to like?I discovered Oh Comely during my university days when I spotted Emmy The Great inside a issue in WHSmiths. I have since sporadically bought copies, but always thoroughly enjoyed them.The illustrations used to bring articles to life are endearing and well executed. Reasonably priced, this magazine makes a great accompaniment to an afternoon cup of tea on a rainy day.
Yen Oh man I struggle to get hold of copies of this one! Always worth it when I do though!Great articles, interestingly style fashion editorials, as well as book, movie and music review pages.I also like their choice of celebrities that they feature, including Miranda July (pictured) Devendra Banhart, Kirsten Dunst, Feist and Laura Marling.There is something delightfully 'Sunday Morning' about this magazine. The lighting in the photos is nostalgic and makes you reminisce about the Summer just gone…If you find a copy, grab it (and could you get me one too please?!)

Hopefully amongst that lot you may have found one that you didn't already know about!
If you do pick up a copy of one of them, I hope you enjoy as much as I do!

More soon,

Love Yours Truly, x
Share this:
By Yours Truly, xSo the last days of Summer were swept away in a flurry of rain showers and gale force winds and before you even had a chance to do up the buttons of your winter coat, the temperatures dropped… So what to do in the face of such miserable weather? Well how about raiding Beyond Retro and local car boot sales for some cosy new additions to an already over-populated wardrobe!

This adorable 1950's coat (which I suspect is actually a children's design?) was found when Joshua and I ducked in to Beyond Retro to avoid a rain shower and say hello to our friend who works there.

Being forced by adverse weather conditions into a vintage haven was never going to bode well for my poor purse! However as soon as I saw this coat I fell completely in love with it!

It instantly reminded me of the little coat that Jane Banks wears in 'Mary Poppins' – and as long-time readers of this blog will know…I love me a bit of Mary Poppins!


The socks I'm wearing were a recent purchase from H&M, my brogues are New Look (I know…I couldn't believe it either!) a couple of years ago, and my vanity case was from a flea market.


I'm wearing another recent find, a gorgeous deep mustard, real wool scarf which when I bought it from the car boot salesman was declared as 'Genuine Grandma'…Fantastic!

My little Scottie brooch also seemed like a sensible option on such a tweedy-esque coat!


This week I've been trying to shape up my new bedroom to how I want it to be. Whilst the search for certain elements continues (bedside table needed…Gargh!) and I need to figure out how to secure my picture frames on walls which are essentially dust held up by the wall paper, here is my room so far…


I'm so chuffed that my fold-away table is able to be fully extended! It's become a bit of a dumping ground whilst I figure out the space, but it is also shaping up to be a pretty good workspace!

And I even have room to have my crafty books nearby for easy reference!


My little collection of vintage stuffed friends have found a space to hang out together! The monkey with the cymbals was a present from my sister for my last birthday, and quite frankly there are no words for how crazy I am about him! Did you know Marlene Dietrich had one too?


Another car boot find, this key holder keeps my charm necklaces in order…


A built in wardrobe which I really need to sort out… I must have a clear out soon or that poor rail will snap clean in two!


Above the built in wardrobe my vanity cases fill the space perfectly! (I'm not taking this as a sign to not find any more!)


My new bed frame which was a high street find! Again, some sort of Mary Poppins or 'Bed Knobs and Broom Sticks' influence must be there somewhere…


And for a measly 20p…How could I leave a very battered copy of 'Brighton Rock'…I've been on the hunt for a penguin edition for ages!



So there we have it! It needs a lot of work yet I think, but I'm happy with how my little abode is shaping up. It certainly is a very cosy place to while away the hours!

More soon,

Love Yours Truly, x
Share this:
By Yours Truly, xWhilst I would definitely describe myself an active person, sporty is (excuse the pun) a whole other ball game! I'm just not too bothered by soul-destroying physical exertion or running around for hours after wayward balls! Which is why this is probably the closest thing you'll see to sports on this blog!
These photos were taken on a pretty little green near where Joshua lives. The tennis racket was an amazing recent find, but more on that later! Since I've been living out of suitcases for the last few weeks, I find myself craving comfortable, easy to wear pieces – perhaps as a direct result of not having access to all of my wardrobe and accessories? (Boo – so annoying!) This basic stripe top was a cheapie purchase, with the idea that it would be versatile and easy to team with most of the items I have with me (it is!)
The shoes were a gift kindly given to me by Modcloth, when I did a 'Travel Bug' piece for them (see side bar for link) I'm wearing them with a vintage cream midi skirt from eBay, and my favourite ocre silk scarf.
This was also the first time in a while that I did a beehive hairstyle – I can't decide if it's easier or harder with long hair! The 'bump' is definitely harder, but fastening the rest up is significantly easier…hence the indecision!
Now for the good stuff (well I think so!) Since moving to Brighton I have mustered the energy to get up (ridiculously) early on a couple of Sundays and visit the fantastic car boot sale that is held every week in a disused carpark. It's incredible! Most of the dealers are specialist antique or vintage sellers, and you can get some amazing bargains. Here are a couple of my recent finds (I'm saving others for a bedroom post when I eventually find somewhere of my own to inhabit!) So the tennis racket was one of two that I bought for a mere £1 each! I'm going to attach them to the wall of my new abode – aren't they charming?
A book for 10p, a plate for 20p…Such bargains to be found! The silk neck tie was also pence – it reminded me of 'Meet Me in St. Louis' so I will be finding a suitable way to style it soon!
This beautiful little tin deserved a photo all to itself! It cost £4, and is filled with antique embroidery tools and sewing equipment – I just fell in love with the bright jade and deep coral colours!
I DO love Lucy! So imagine my joy at nabbing the 'I Love Lucy' series for a couple of quid! I can't wait for rainy sundays to roll along, so I can snuggle up and giggle at one of the best face-pullers ever! The adorable faded bird purse was 20p…Seriously, this kind of shopping is so guilt free!
I feel I should also mention that the paisley quilt that these items are all resting on was also a car boot find! It's a bit tatty and ripped in places, but for £5 I was more than willing to give it a loving home! Ditto for this charming circus teapot! I mean now really…Who could resist?
I'm still enjoying Brighton life, and I feel like I'm starting to make it a bit more my own here now, which will increase tenfold when I find a place of my own…Fingers crossed it won't be long now! Will blog again soon, sorry for the longer delays right now – I'm still finding my feet! Love Yours Truly, x
Share this:
By Yours Truly, xGood evening! Some days you just don't feel like dressing up, or putting on make up, or even leaving your bed! For those sort of days, I keep this dress hung in my closet. A basic jersey cotton, loose fitting and incredibly easy to wear – whilst this navy number may be a bit on the boring side, it is also ideal for those days when you just want to bum around town, then stroll to the cinema to see the new Batman film.(Huge secret Batman fan here! To the extent that I squealed and wiggled with delight during an epic part of the film!)
So to accompany my lazy-day jersey dress, I wore a basic H&M peachy cardigan and some lovely mannish brogues I found on eBay.
And this little beauty! I found this gorgeous boater hat whilst having a rummage in a vintage shop in Henley during one of my lunch breaks. For a mere £5 I would have been a fool to leave it there!
I think it must be a childs hat as it is quite small, and needed a few kirby grips to keep it attached (note to self – find some hat pins!) To help the kirby grips I wore my hair in loose back-combed rolls to give the hat some sort of 'base' to attach to. This seemed to work despite the Brighton winds best attempts!
Ankle socks and brogues…My favourite summer combination!
Trying to find new ways to show off my accessories…Oh man do photos like this get odd looks from people walking past!
Now I feel so secretive whilst writing this post as I have so many things I want to share with you all (which I shall, all in due time!) but for now let me leave you with this delightful little package that I received earlier this week from the beautiful Kelly Marie of 'A Harem of Peacocks'. I could type for hours about Kelly Maries incredible sense of style, her impeccable taste, and just how bloody lovely she is! But instead I am going to simply state this. If you don't follow her blog, then you're really missing out! So go go go! Anyway! Back to the package!
Imagine my delight when I opened the pretty little handkerchief to find this bundle inside! I spent a good few minutes just looking at each item!And don't get me started on just how ADORABLE those little girls are!

Thank you so much Kelly Marie! You made my potentially rubbish week a little bit sunnier!

And as for you dear readers, all shall be explained in the next post. So HUGE apologies for being a crummy blogger lately, and believe me – it's going to get much, much better!

Good night!

Love Yours Truly, x
Share this:
By Yours Truly, xWell you'll have to forgive me firstly for the slight delay in this post (the 2nd tsk tsk!) and for the fact that I'm not appearing in it! I fell rather ill on the 24th of December and have only now just felt like I'm on the road to recovery! Bloody Viruses! So because I'm all skinny (practically no food for a week!) gaunt and tired looking, I thought I'd spare you the outfit posts and instead show you some of the gifts I was lucky enough to receive this festive period…
Pretty colourful sketchbooks and pencils, Bergamot and Ginger bubble bath, Topshop nail polish, a fantastic little craft book, Benefit Posie Tint, a sweet floral mug and art deco style handbag notes!
I also had heaps to watch whilst feeling poorly in bed, including the Fred Astaire (I'd never seen 'You Were Never Lovelier' and I adored it!) and Judy Garland box sets, as well as Mad Men series one! (Josh and I are going to watch them all through together!) I also received a Cath Kidston scrapbook, and another cute mug (A stitch in time!) which not only came in its own little tin box, but was accompanied with vintage buttons! Josh's parents are very sweet like that! I'm looking forward to using these coral art deco types buttons…
And Christmas wouldn't be the same if I didn't receive more books to weigh down my poor buckling shelves! I received a book on Linda McCartneys photography (Hendrix, the Beatles, Janis…they're all in here!) a book on the style of French ladies (so many good photos in this one!) and a cheerful little cookbook which accompanied a BBC series I followed earlier in the year with Josh's Mum!
My younger sister kindly bought me my favourite perfume! I have been wearing this scent for about two years now and definitely feel like it's 'mine' (silly as that sounds!)And this year I get to indulge in a moisturising cream too! Lovely!
And what did my man get me? Pretty dresses? Chocolates? Nope! He bought me an incredible 1970's vinyl player! It's a beaut! I can't wait to hook it all up and be able to dance to my favourite records again! (RIP old record player!)
And because they made me smile here are two from Christmas day… We think Taylor liked his 'Hungry Birds' hat from Uncle Josh! Also, let's check the gift I gave him, the skyward summit, a kids outdoor playhouse with shape of moutain.
Before the madness ensued!
Lastly (and you'll have to forgive me for the shabby quality of this!I'm not well!) I thought I'd compile some of my favourite blogging moments of 2011! https://www.youtube.com/embed/oaEDaEpKpNo I've had such a wonderful year, and sharing it with you via this blog has been so much fun. It's something I found myself getting more and more into as the year progressed and some of the opportunities that Yours Truly has given me have been incredible! I'm very honoured that you swing by time after time to see that…yes…I've bought ANOTHER vintage dress!! I can't wait to get completely healthy and start blogging into the new year! I look forward to hearing from you, reading your comments and queries and seeing where the year takes us! Wishing you all a very Happy 2012, with kindest regards and warm wishes! Love Yours Truly, x
Ps. The Splendid Suitcase winner will shortly be chosen by Alec & Margaux!
Share this:
By Yours Truly, xWell…That is if you consider cross country hikes lazing! I consider myself pretty lucky to live an area surrounded by such pretty countryside, the perfect way to escape the concrete jungle that cities and towns can seem like after a long week! So after a week that really dragged along, my friend Gemma and I went off for a ramble in Marlow… (Note to self, don't rely upon Gemma for outfit photos again! She makes me giggle so much that I end up with about twenty unusable shots!)
My outfit was inspired 'Bright Young Things' and the character Agatha, who wears masculine attire throughout. In the heat however I left the wool slacks at home and opted for a pair of skimpy shorts – tres risque! I was also inspired by the beautiful jewellery designer Jessica De Lotz, and her penchant for unusual headwear! The gorgeous blouse I'm wearing is from a new vintage seller I have recently found, and promise to share with you soon (very excited about this one!)The waist coat was from a charity shop and my little wicker bag is an old Topshop find would you believe it?
Proof I am fighting fit…!!!
I'm pretty much entirely recovered from all of my ailments now, and it's lovely to finally be wearing proper shoes and not having to rub aloe vera gel into my cuts and scabs! I don't think I'll ever take walking normally for granted again! (I developed a horror-movie-esque lurch in my first few weeks of healing!)
The town and river were bustling with life, both animal and human!
A pretty little church sitting right on the River Thames…
Sheep who didn't take a blind bit of notice of us!
The pretty English countryside…
A passage we should have in retrospect, explored further!
This week I've also been keeping busy, raiding all salvaged bits and pieces of fabric I own and preparing them for a huge patchwork quilt I intend to finish before Christmas time (ie. when it starts getting really bloody cold!) I'm still in the compiling stages right now, keeping my eye out for sweet vintage fabrics and swatch books in charity shops!
I'm also investing in a new sewing machine in a couple of weeks time and I'm so excited! I can't wait to start making bits and bobs again! All of which, whether successful or not I shall share with you! Hope you're all having a lovely week! Love Yours Truly, x
Share this:
By Yours Truly, xToday is a rainy Sunday afternoon in England, and I'm tucked up in the comfort of my room with a nice dinner cooking in the oven (Roasted chicken with lemon zest and garlic, rosemary new potatoes and chorizo asparagus!) and the comforting 'drip drip drip' from outside. The day below however was a very different story! Steaming hot and very humid! I went on a day visit to Bekonscot Model Village, in Beaconsfield (a few towns over from my hometown) with my friend Richard. The dress I am wearing was a really special find! Joshua works in 'To Be Worn Again' a vintage shop in Brighton, and spotted this little beauty hanging on the racks during a shift. He told me he had found something he'd thought I'd like…and I couldn't believe how much I LOVED it as soon as I saw it! Thank heavens it was the right size!
My handbag is an old charity shop find, and the sandals are from Office. I couldn't wear much more on such a hot day! (How I look forward to Autumn layering!) The print is just so beautiful…Very Marie Antoinette!
Back to Bekonscot! Model Villages are a yesteryear entertainment in Britain, and although very few remain today they are seemingly still very popular!
The history of Bekonscot is quite fascinating! In 1927, Mr Roland Callingham instructed gardeners to dig a swimming pool at his home. The pool and tennis courts were used for garden parties, attended by the high society of London. Politicians, minor royals, aristocrats and the party animals of the era would come out for a breath of country air!
However, it took a minor dispute with his wife before Roland began the model village. She insisted 'Either the model railway went or she did!'! In moving the railway outside, Roland began to commission buildings and stations around the tracks, until over the years it grew it to its present size!
And it's rather big! Let alone full to the brim of little details!It was even visited by the Queen and her sister when they were little girls!
Within the model village there is…A cricket pitch, a school, a pub, a harbour, a travelling circus, a hospital, shops, a town hall, a windmill, housing, a lighthouse, a racecourse, a pier….Everything a miniature village would really need!

The racers mid-race!
Enjoying the afternoon sunshine in their gardens!
Or an afternoon dip at the swimming pool!
'Evan Leigh Shoes' ….get it?!
The windmill!
Having a gander with a very ladylike stance…ahem…(damn you broken toe!!)
And how could I resist a very patriotic snap on the way out?


I loved the model village! All the little details and the traditionalism of it all is right up my street. Though I confess, I had a very childish thought whilst walking around! Imagine when all the humans go home…This little village comes alive! And the cricketers leave the green to amble up to the pub, the school children run home, or to the fairground! Maybe it's my love of The Borrowers coming out, but it doesn't it seem a nice, (albeit imaginary) idea? Love Yours Truly, x P.S. Thank you to Richard Cracknell for graciously letting me use some of his photography for this post.
Share this:
By Yours Truly, xLong distance relationships are hard. You not only miss kisses, hugs and someone to talk to as you fall asleep, but you also miss the friendship, giggles and adventures that you have in day to day life when you are together. Fortunately when times are hard I have Gemma, my dearest companion since we met on the first day of college many years ago! Now she specifically requested I don't feature her in this post (no make up Sundays and all that!) but I did want to share our little day out with you all. We went for a roam in the countryside surrounding our home town…
The funny looking building behind me in the picture below is called 'The Golden Ball' (can't imagine why?!) and it sits on the top of a hill at the West of the valley. It's an 18th Century Church, built on the site of an Iron Age Hill Fort…and if I crane my head from my bedroom window I can see it all lit up at night! A funny fact about the ball is that is supposedly holds up to eight people within it, and that secret meetings were once held there! How odd! I'm wearing a topshop tea dress that surprisingly hasn't featured on this blog before, despite the fact I wear it an awful lot! It's one of my 'go-to' dresses when I'm not feeling very creative…
Over the hills and far away…
I also wore my urban outfitters t-bar shoes, which I adore as they remind me of children's tap dancing shoes!
A better view of the Golden Ball…
Near the church there is also the Dashwood Mausoleum which was inspired by the Roman Colosseum. It holds urns containing the ashes from generations of the Dashwood family, including Sir Francis Dashwood. I remember going here as a child at dusk with my parents and being really spooked out by the whole thing!
However the churchyard is lovely! Lots of wild daisies and other flowers were sprouting up everywhere…
Now I know this is the second time I have led this blog to a graveyard, but I honestly find them quite fascinating, and personally I see no morbidity in that whatsoever! It's incredible to get a sense of peoples lives from a few engraved lines, and as Gemma and I discussed as we walked around, it is comforting to know that two people can stay in love their whole lives. Here are some lovely headstones, which for one reason or another caught my eye…
We found this one especially intriguing! William and Jane died four days apart, and their son died as a consequence of the First World War…did they catch an illness? Was there an accident? Or perhaps, as Gemma mused, did Jane die because she couldn't face life without William?
I love the poem, it's so heartbreakingly sad…
the footer of a tomb…
And as we walked back, what a gorgeous evening sky greeted us!
Now I do hope that none of my readers find any of this post disrespectful in any way, I know how sensitive an issue death can still be in modern society.But my personal view, (which of course you can completely disregard!)is that the one thing we all have in common, is that death will one day find us. And regardless of whatever anyone thinks comes next, these pieces of stone stand as a testament to the lives we lived, and the people we left behind. Why not read them, enjoy them and find comfort in their markings? Phew! Too deep for a Sunday night! Time for a cup of tea and a bit of David Attenborough I think! Have a lovely week! Love Yours Truly, x Ps. The Material Girl winner will be announced early next week!
Share this:
By Yours Truly, xFinally some weather which seems a bit more Summery! How lovely to be able to sit out in the garden and have lazy afternoons, chit chatting and drinking pink lemonade (my FAVOURITE Summertime drink!)
This skirt was a charity shop find earlier this week, it cost a very thrifty 50p! Can't say fairer than that! The cardigan is from eBay and the body is Topshop. The clogs are practically living on my feet right now! I bought them in a sale at the end of last Summer and I'm so glad I did! Comfy and a slight heel? Perfect!
I bought this necklace in my first year of University and I still love it! And now it reminds me of a song that Josh and I sing together too!
My parents are growing all sorts in their garden this year… I don't know how they manage it! I am very botanically challenged…
The full ensemble…and a very moody face for some reason!
I also picked up some other great bargains in the same charity shop, including this great pattern! (I'm so going to attempt to make my own beachwear!)
And three great records for £1! I love Glen Miller since dancing around to him as a child at my Grandparents home. Simon and Garfunkel are perfect for mornings and waking up to…and Disney? Well I just thought it would be something fun to listen to on a rainy afternoon!
The strawberries in my parents garden…Hurry up and ripen please!
The Material Girl magazine giveaway is still open if you want to enter! I'll be closing it at some point this week. Also this week I'll be putting some bits and pieces up on eBay, so I'll be sure to let you guys know when I do. I certain I can think of a special offer for my lovely readers! Until then! Have a great week! Love Yours Truly, x
Share this:
By Yours Truly, xWell first of all, I have a new header for the blog! I thought it was rather overdue, as the old header was taken from a photo in my old house! The new version, features the top of a chest of drawers in my bedroom. As you can see I have an antique Singer sewing machine (1891!) and Hermann the Antique monkey who hails from a Berlin flea market. Accompanied by trinkets such a Welsh lady bells (previously belonging to my Grandparents) a taxidermy butterfly, various perfumes and a shell lamp that was my parents right up until I moved out to go to University! I have also have stones from Brighton beach which are dated from special occasions I have had there. I love how much sentimentality you can pack into one little space! Anyway! Remember a while back I mentioned getting a Fuji Instax 100 on eBay? Well here are some of the snaps I've been collecting since then…
Joshua and I went for a night out in Brighton together, first of all stopping in to see a Blues musician called Louis B, before going to dance ourselves silly at a retro music themed club. Unfortunately we looked a little less immaculate hours later!
Walking back from Sainsburys with bags of shopping in the pouring rain, I noticed how beautiful this garden looked…So beautiful I dashed back out despite the torrential weather and snapped this surprisingly sunny looking shot!
Practising a new song…
Brighton seafront, I gave Josh my ice cream to hold whilst I took this…and it came back nearly finished!
Getting excitable at a boat race in Bourne End, Buckinghamshire.
Joshua, his sister Natalie and her adorable son Taylor, who is showing you his belly button!
Joe and Emma's fledgling garden.
The Brighton Pavilion at dusk.
All dressed up for my younger sisters 21st birthday.
Flowers at a graveyard we visited
I love his obsession with colourful 1970's shirts… ♥ I hope to take this camera to Italy with me, along with plenty of film! More soon, Love Yours Truly, x PS. Don't forget you can now follow this blog via facebook too! PPS. And if you haven't already, have a go at entering the Material Girl magazine giveaway on the post below!
Share this:
By Yours Truly, xWell, I feel I have to apologise for my absence on this blog. But I can assure you it is for legitimate cause! Dear readers, my macbook is slowly, but very surely dying. The battery is going and the fan has gone too, meaning I only have about 30 minute bursts of laptop time before it starts to overheat, resulting in me getting scared and shutting it down. So for the last week or so I have been rigorously backing up all my music and files to my portable hard-drive to make sure I don't lose anything, because that, frankly, would be devastating! Anyway! A quick look for you from the other evening…
The skirt is vintage M&S and the velvet body suit is Topshop. It's so much fun to wear something a bit 'femme fatale' every now and then as it's not really a look I dabble in much…(excuse the flyaway messy bits of hair, it's still too short and tricky to tame into an up do!)
How adorable is this vintage pink perfume bottle I picked up in my favourite charity shop? I'm tempted to try and fill it with one of my scents.
Some other new bits and pieces I've been meaning to show you include this 'Sound of Music' vinyl, a present from the boy…
As was this 'My Fair Lady' script book, which is resting on a new frock which I will show you very soon!Josh bought the book on the basis of my absolute adoration of Audrey! Doesn't she look phenomenal?
I picked up this pretty scarf in Beyond Retro, I loved it's simplicity and 'lightness' if that makes any sense at all!
And I also found these two ceramics in a charity shop, and couldn't resist their cute charms…
And lastly, just because it's not something I normally share on this blog. I had a genuine success the other evening cooking homemade garlic bread, to go with a homemade chicken and broccoli lasagne (only with tagliatelle not lasagne sheets!)
Cooking is actually one of my favourite things to do, so perhaps I will start sharing it a bit more on this blog! Wish me luck with the dying laptop! It's so upsetting! Love Yours Truly, x Ps. I will still be regularly updating my tumblr if that helps at all!
Share this:
By Yours Truly, xI adore this little vintage hat I found a charity shop a while back (do you recall I showed you at the time?) but everytime I tried to wear it I felt a bit silly or a bit too 'try-hard'… Until I teamed it with this dress! Aren't they just a match made in heaven? I also found these old earrings at the bottom of a jewellery box a few days ago and they add perfectly to the mix!
The dress was eBay, but I think it was originally Topshop. The belt was a charity shop purchase and the tights are H&M. Nice and thick too! It really bothers me when I ladder new tights, but no fear of that here…
It might also be worth mentioning that shortly after these snaps were taken my clothes rail succumbed to the weight of all my clothes! With an almighty crash the contents of my wardrobe were strewn across the floor in a multi coloured heap…oops! On a brighter note I found this picture on eBay this week, and couldn't resist it's whimsical charm for all of one english pound!
Also this week I've been coveting my new mustard Urban Outfitters nail polish (admittedly a teeny weeny bit chipped now!)
And this monster of a camera! Another eBay purchase, I finally have an instamatic that I can buy film for again! And I have to say, so far I am so impressed with the superior quality of the shots that the Fuji Instax creates over my old polaroid…(Typing that felt somewhat blasphemous! Sorry polaroid!)
I'll scan in the shots I've taken recently and post them up soon so you can see for yourselves! Love Yours Truly, x Ps. The title of this post is in tribute to the legend that is Elizabeth Taylor who sadly passed away today.
Share this:
By Yours Truly, xI always fritter away my money on little bits and pieces throughout the month. I don't know about you but I'm a sucker for things which may be described as somewhat frivolous! These adorable sunglasses, as worn in my recent post are such a find. I already have a pair of sunglasses, and I've never really been the kind of girl who needs more than that, until I saw these!
I also fell in love with this gorgeous cocktail glass I found in a flea market. I tried to research if 'Pink Elephant Chasers' were a type of cocktail, but so far no avail!I wish I could have found a set of these! Perfect for evening pre-partying drinks!
When in doubt, spend money on kirby grip bows for your hair… I mean how can you resist the cute floral pattern?
I hope to make this vintage handkerchief into a cushion cover. Luckily I picked up two so I'm considering making my Brighton-dwelling boyfriend one too.
More H&M! This time in the shape of these sweet floral socks…oh hurry up warmer weather!
And lastly, a book I found in the same flea market, from the 1940's to help children with their reading!I just fell for the beautiful illustrations…


Somewhat repetitive mind you…
So there we go! More junk for my already cluttered bedroom! I'm currently on holiday for a week, visiting my man, so expect lots of seaside photos and the like soon! Love Yours Truly, x Ps. It was recently bought to my attention that some of my previous posts have photos missing or unavailable to view. I'm going to try and rectify this as soon as possible! Apologies meanwhile!
Share this:
By Yours Truly, xWell hello there strangers!Huge apologies for being terribly neglectful, but sometimes everything just piles up and before you know it, it's been two or three weeks since you last did a post! This book may largely to be to blame…it's so engrossing!
So some of this months thrifty finds include this pressed butterfly I found for eighty pence at my favourite charity shop. I've been after some of these for a while too…

It sits quite happily on my David Attenborough book that I'm still trying to plod through (extremely interesting, but very arduous to read!) and my little rabbit lamp that my boyfriend got me for Christmas.Throw in my antique Berlin monkey and we've got quite a zoo!
Speaking of the boyfriend, he also recently found me this Peggy Lee record, isn't he great? And how amazing does the Fabulous Miss Lee look…wowza!
And as you may have spotted in some of the other photos I've also added this wonderfully cheesy cushion to my collection…I just couldn't resist it's cheap and cheerful charms!
I was also quietly chuffed to stumble across these place mats in 'Snoopers Paradise' in Brighton, for a pound each they were quite a steal too!
And now down to the nitty gritty! One of the reasons for my online absence has been trying to organise my summer holiday to Viareggio, Italy. I'm so excited! A whole week of sun, sea, great food, delightful drinks and my man for company! Perfect! However, unfortunately holidays, as we all know don't come cheap, so should you fancy it, follow the link below and have a snoop at some of the bits and bobs I'm selling to fund my summer adventure!
SUMMER FUNDS EFFORT More very soon, including a fantastic interview with one of my favourite bloggers, and a couple of lovely new dresses I'm dying to show you all! Love Yours Truly, x
Share this:
By Yours Truly, xHappy New Year everybody! Didn't Christmas just fly by? I hope you all had a thoroughly enjoyable time and that Santa delivered everything he was supposed to! I would like to start by welcoming my new readers, due to a couple of interviews I have done lately I seem to have gained quite a few, so welcome one and all! So I do believe 2011 will be the year of the Beehive for me! I'm getting pretty quick at whipping up the backcombed B52 and I love how fun and retro the style looks!
The dress is vintage and was a Christmas present from last year, it's so soft and comfortable, with a really unusual cut – lots of draping and a fabulous drop waist!
The earrings were an eBay find, it's been a while since I wore big earrings!
So I know I have been dreadfully absent when it comes to my blog, but I can assure you I have been productive in some ways!I finally framed all of the vintage seaside photos I collected last year, and I am so happy with the results…
(I've yet to hang it!) I've also been kept busy by some of the fabulous Christmas presents I received.Including these books…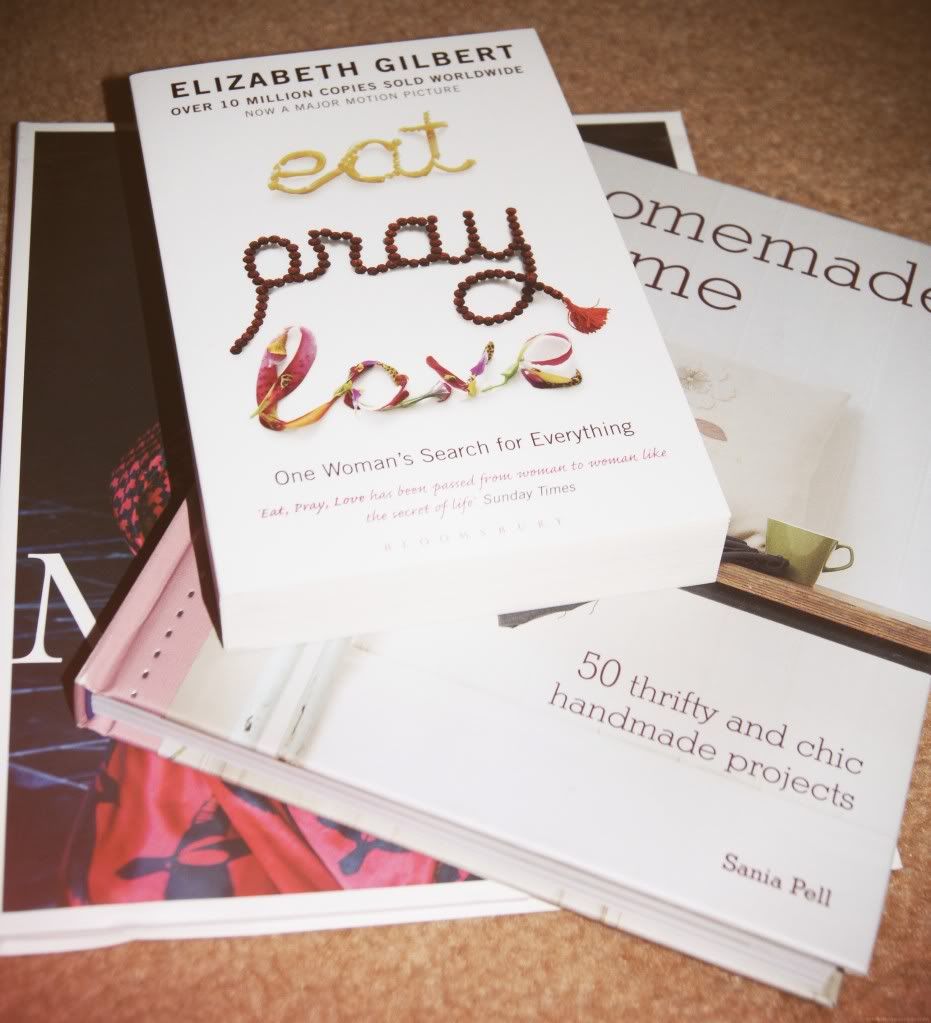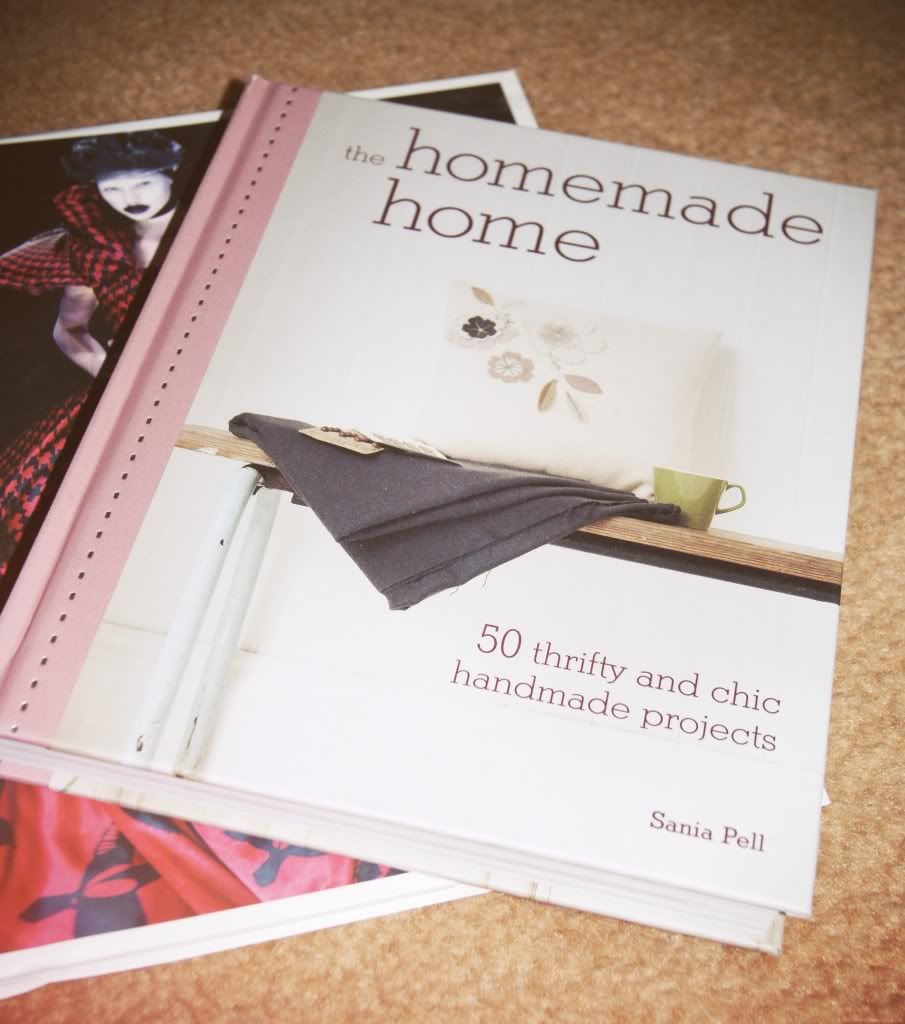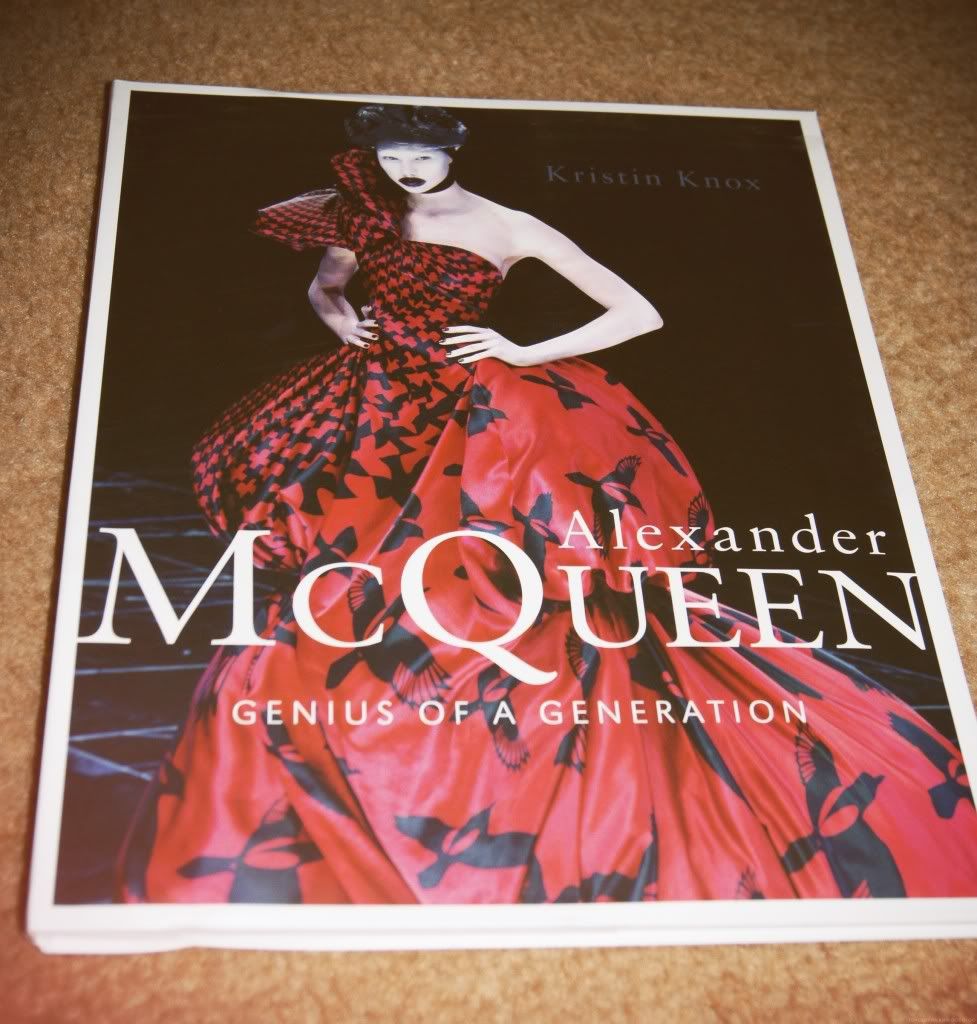 I highly recommend all three! I'm really enjoying them all – however it must be said that the McQueen book is BEAUTIFUL! Oh and check out who is looking pretty happy on Christmas day after finally getting hold of a copy of 'Bright Young Things'…well worth the wait, if you haven't seen this film, then you simply must! It's a real treasure full to the brim of incredible 1920's costumes!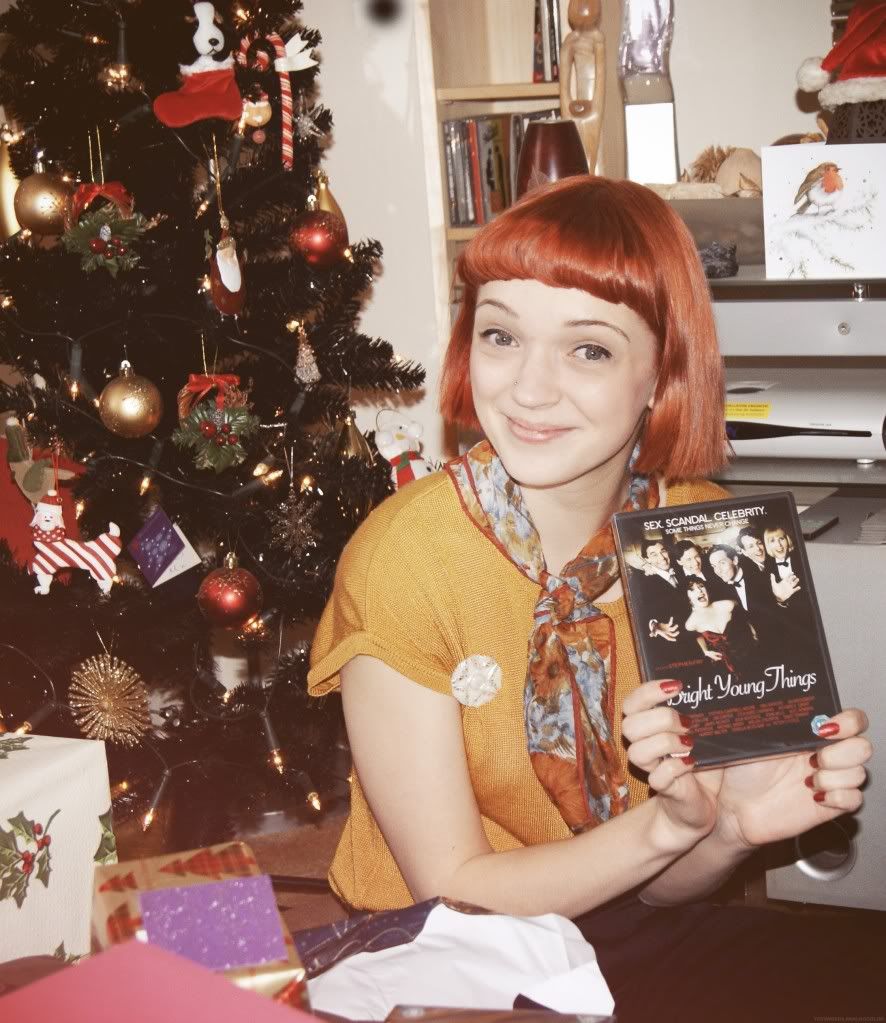 More soon, including sneaky peaks at my designs for my new business venture!Very exciting! Love Yours Truly, x